Scholar Activity Badge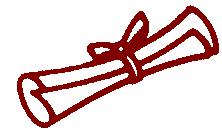 MENTAL SKILLS GROUP
DO THESE:
Have a good record in attendance, behavior, and grades in school.
Take an active part in a school activity or service.
Discuss with your teacher or principal the value of having an education.
List in writing some important things you can do now because you are going to school.
AND DO THREE OF THESE:
Trace back through history the different kinds of schools. Tell how our present public school system grew out of these early schools.
Make a chart showing how your school system is run.
Ask your parents and five other grown-ups these questions:

What do you think are the best things about my school?
What are its main problems?

What do you think were the best answers? Why?
List and explain some of the full-time positions in the education field.
Help another student with schoolwork. Tell what you did to help.