Athlete Activity Badge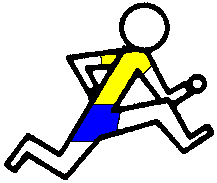 PHYSICAL SKILLS GROUP
DO THESE:
Explain what it means to be physically healthy.
While a Webelos Scout, earn the Cub Scout Sports Pin for Physical Fitness.
AND DO FIVE OF THESE:
Lie on your back. Hook your feet onto something heavy or have another person hold your feet to the floor. Do 30 bent-knee situps.
Do two pullups on a bar.
Do eight pushups from the ground or floor.
Do a standing long jump of at least 5 feet.
Do a vertical jump and reach of at least 9 inches.
Do a 50-yard dash in 8.2 seconds or less.
Do a 600-yd run(walk) in 2 minutes 45 seconds or less.