Artist Activity Badge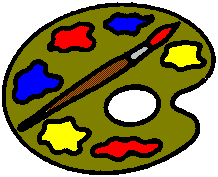 MENTAL SKILLS GROUP
DO FIVE OF THESE:
Draw or paint an original picture. Use watercolors, crayons, or acrylic paints. Frame it for your room or home.
List the primary and secondary colors. Tell how to combine colors.
Make six designs using straight lines, curved lines, or both.
Make a profile of a member of your family.
Use plastic or clay and sculpture a simple object.
Make a mobile.
Make a construction. Use your choice of materials. Examples are dowels, screen wire, cellophane, and string.