BSA Lifeguard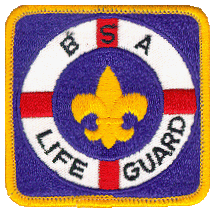 (SEE APPLICATION FOR BSA LIFEGUARD
FOR DETAILED REQUIREMENTS)
Explain and demonstrate (when applicable) the following requirements:
Aquatics skill.

Swim 800 meters (1/2 mile)
Demonstrate skill and knowledge in CURRENT requirements of the following merit badge subjects.

Swimming
Lifesaving
Rowing
Canoeing
First Aid

Throw a line for accuracy 10 meters three times in 1 minute.

Safe Swim Defense.
Safety Afloat
First Aid.
Emergency action.